Best Dog Beds: How to Choose
By
Mark
on March 11, 2015
When you bring a new furry friend into your home, there are a few supplies that can greatly increase your dog's comfort, and one of those is a dog bed.  Not all dog beds are the same, though; there are a number of different types of cute dog beds on the market for large and small dogs, and also for dogs which chew a lot or need extra care.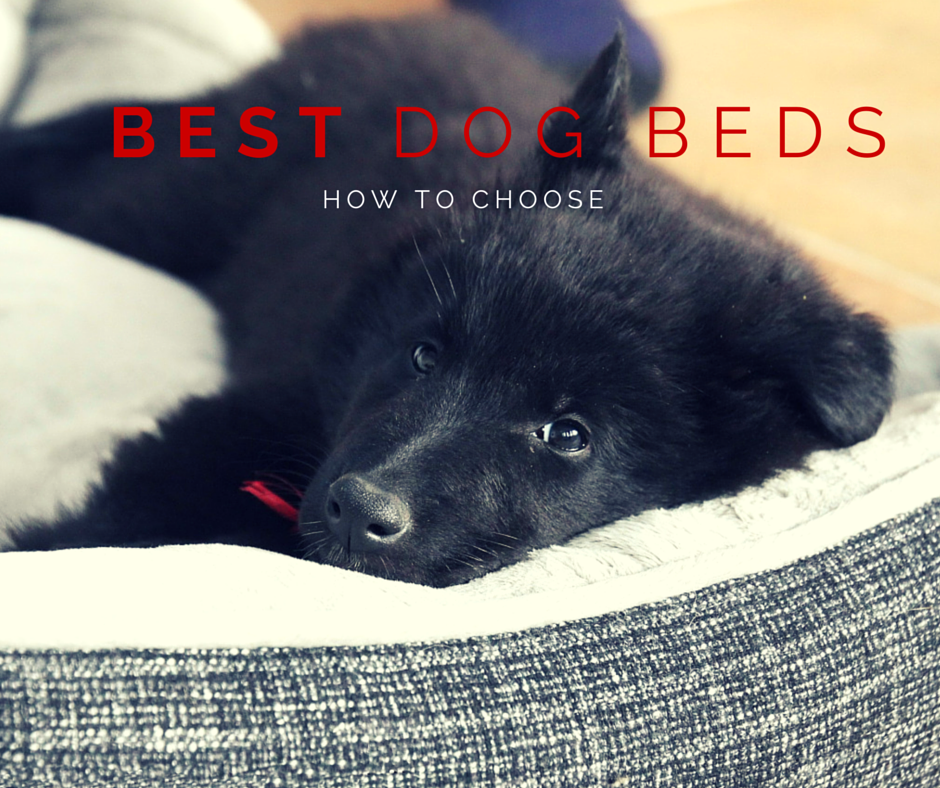 As Kathy Diamond Davis, trainer and author of Therapy Dogs: Training Your Dog to Reach Others, explains, "A dog bed can be anything from a rug to a four-poster affair fit for canine royalty.  Some dogs actually prefer a smooth, cool floor."   So how do you choose the best dog bed?  Davis goes on to suggest that you consider your dog's size, coat, the temperature in the house, habits, and more.
Sizes for dog beds run a whole range from XS to XXL.  Large dogs will be more comfortable on beds for large dogs, and small dogs will prefer beds for small dogs.  For very large breeds, you can purchase extra large beds.  Remember that you need to support not just your dog's dimensions, but also his or her weight.  When you are shopping for a bed for your dog, always check the weight limit.  This will let you know if there will be sufficient cushioning.
Think about your dog's coat as well.  Long-haired dogs often are overwhelmed by heavily cushioned beds, especially in the summer.  Short-haired dogs on the other hand often need cushier dog beds in order to stay warm throughout the year.  Some dogs may even require a different bed during the summer than the winter!
When you watch your dog sleeping, notice not only the surfaces he or she prefers, but also the sleeping position.  Some dogs like to sprawl and need plenty of space to spread out.  Others prefer to curl up in a ball, and may prefer a more contained bed.
Types of Dog Beds
Dog beds can be categorized according to shape:
Rectangle:  Perfect for dogs that like a lot of space to spread out.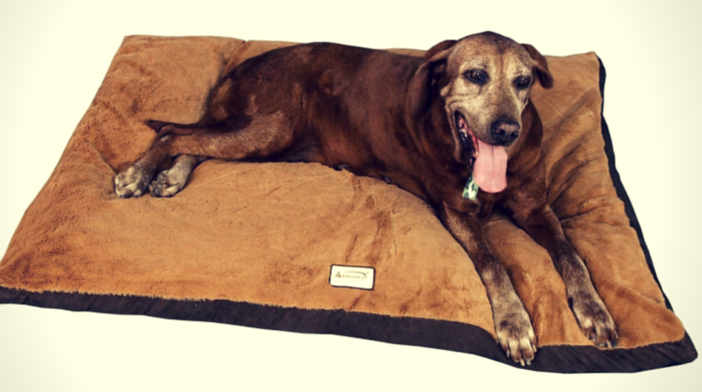 Round or oval:  Good for dogs that curl up sometimes or all the time.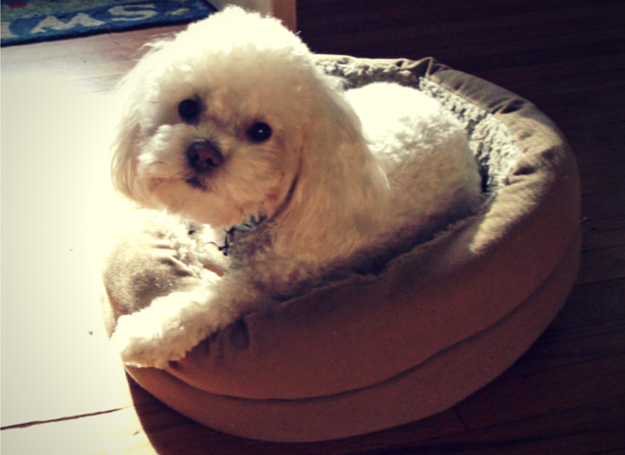 photo source
Bolster:  Also ideal for dogs that curl into a ball.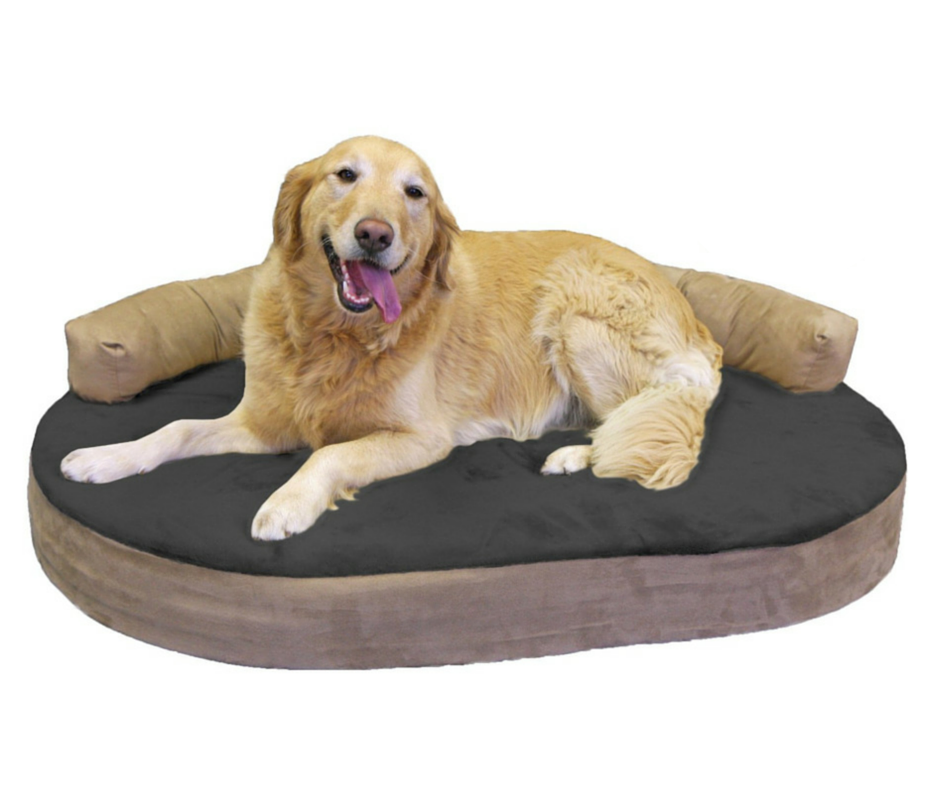 Cave:  Have a dog that likes to burrow under your bed sheets?  He will probably love this type of bed.  Dogs that sprawl often can't stand them.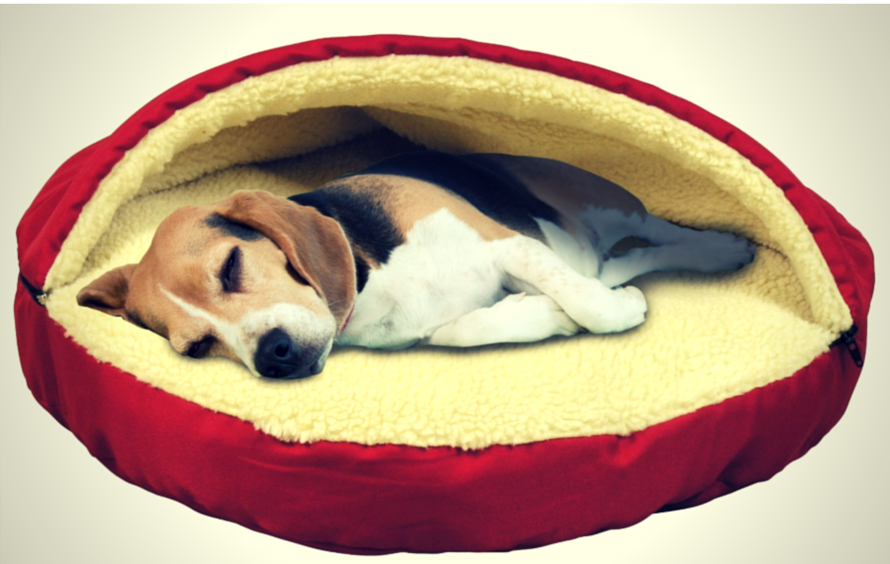 You will also find some specialty dog beds, including the following:
Eco-friendly:  If you care about the environment, eco-friendly dog beds are an excellent option.  They also are a great choice if you have a dog with sensitive skin!  The fibers and dyes used in other dog beds may cause skin irritation.  Eco-friendly dog beds are not only environmentally-friendly, but dog-friendly.
Indestructible:  Have a dog that could chew through anything?  A chew resistant dog bed is what you need.  This bed will stand up to the wear and tear your dog subjects it to, and will make a comfortable place to sleep over the years to come.
Heated:  These beds may be ideal for pets with health conditions like arthritis, or simply for dogs that need extra help staying warm during cold winter months.
Orthopedic :  Doctors Foster and Smith recommend orthopedic beds for dogs that suffer from conditions like arthritis, calluses and hip and elbow dysplasia.  Additionally, "dogs can get 'bed sores' too, so dogs who are recovering from an illness or surgery and are going to spend a lot of time laying down would also benefit from an orthopedic bed."
Fancy:  These are just what you are picturing—cute dog beds which have been designed with chic sensibilities.  Many of them look like miniature human couches or beds, often with fancy frameworks.  If you really want to spoil your pooch, this is the way to do it.
Custom:  Can't find exactly what you need?  You may want to commission someone to build you a customized dog bed that is just the right size and shape and material for your dog to get comfortable.
Don't forget that not every dog needs or wants a dog bed.  Some dogs do better in crates, and there are benefits to letting a crate double as a sleeping area.  Other dogs may prefer the bare floor.  Still others may prefer sleeping on your bed, if you don't mind!  When you bring home a bed for your dog, don't expect her to be comfortable with it right away.  You will need to introduce the new bed slowly to your dog and train her to sleep on it.  This process can take some time, so be patient.
And if you can't get your dog to sleep on a dog bed, don't force it.  "I don't think there is a successful way to teach a dog to lay on a cushion or bed if they do not want to," writes Dr. Jacki, D.V.M. on Ask the Vet on All Things Dog Blog to a dog owner struggling to get her dog to use a dog bed.  "You could try by giving her a treat on her bed, but I wouldn't expect her to all of a sudden like the cushion vs. the tile.  Some dogs just prefer the feel of the tile to a bed."
Choosing the best dog beds for dogs that will accept one takes some time and research, but it's worth it to help your furry pal rest in comfort!