13 Crazy Dog Beds That Will Blow Your Mind
By
Mark
on September 28, 2015
Looking for a cool, unique dog bed for your furry pal?  While most dog beds are pretty standard—a flat rectangle or a round cushy bed—there are some really amazing designs out there that will surprise you!  We've culled the Web in search of the wackiest dog beds out there, looking through blogs, shops, and more.  Here are the 13 most amazing crazy dog beds we found!
1. Pet camper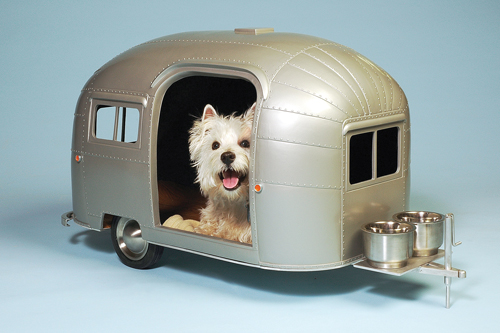 For a dog that likes enclosed spaces, this little pet camper by Straight Line Designs is an adorable place to sleep and relax!  I love the realism of this design; it looks just like a miniature version of a real camper, complete with all the little details.  Very cool!
2. Miniature bed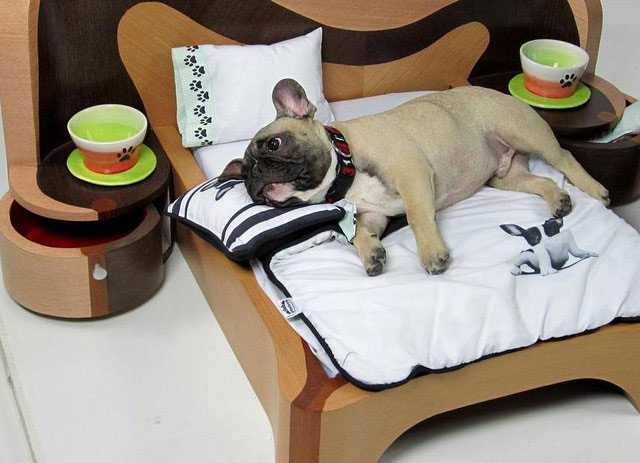 Here's another in-miniature design, this time based on a human bed, complete with bedside tables.  Not only is this cool because it's like a human bed, but it's got a great integrated design.  I love the curved lines of the wood and the way everything is one piece.
3. Jakey BB hand-painted embroidered pet beds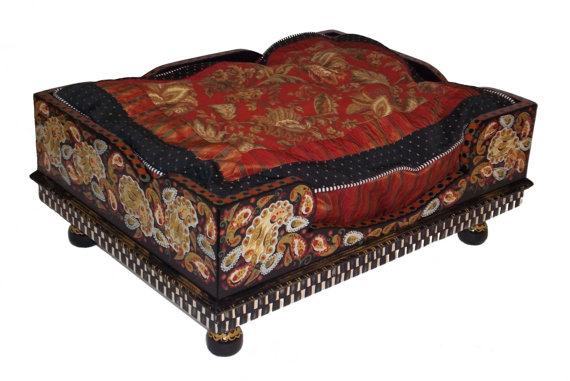 Have a look at some of these amazing luxury dog beds made by Jakey BB on Etsy!  Any one of these would make for an incredible purchase.  What I love about these beds is that they not only look incredibly beautiful, but they also look cozy and comfortable for the average dog.  They are unusual in that they are luxurious, but they don't sacrifice functionality for beauty.
4. Bedside table dog crate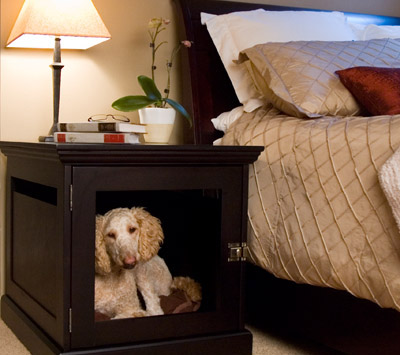 DenHaus makes a number of really interesting dog crates out of a variety of materials.  All of them are designed to double as bedside tables, like this one.  This is a perfect choice for a dog that likes to sleep in your room with you, but which you want to stay on a crate and not on your bed.  These dog crates double as beautiful furniture items.  If you didn't see the dog in there, you would just think that was some form of cabinet storage inside the table.
5. Dog hammock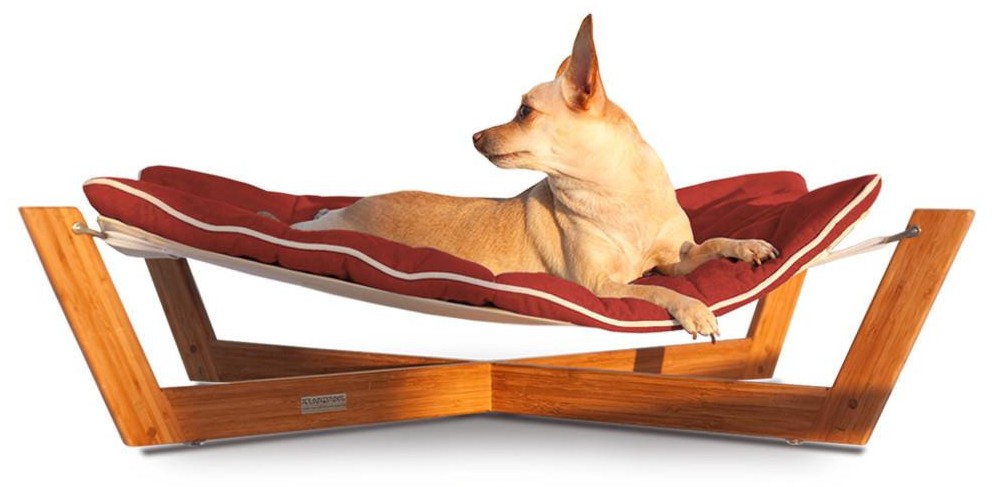 Pet Lounge Studios creates pet furniture and accessories, including the Bambú Hammock, which is perfect for dogs or cats.  It's not just a cute design either; it was specifically built to relieve pressure points, which makes it perfect for arthritic pets.
6. Integrated dog crate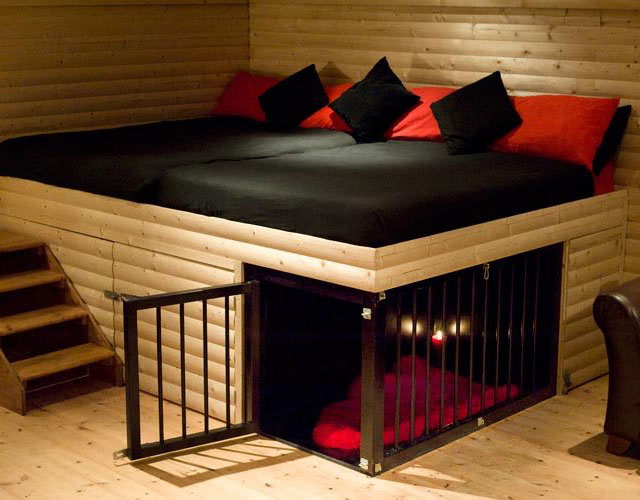 This design just blows me away.  It conserves space, looks incredibly elegant, and was obviously a very special custom creation.  I think what impresses me the most about this one is the fact that the dog crate was commissioned as part of the bed.  What better way is there to recognize your dog as a true member of your family?
7. Luxury cardboard DIY pet bed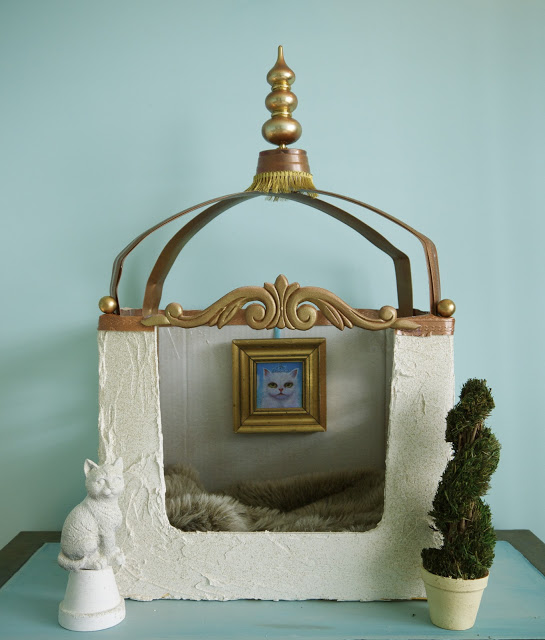 Wow! This one is super cool!  Looking at it, you really do get this impression of wealth and luxury.  It is quite posh!  But it is made out of cardboard!  Check out the blog to see how it was made.  This one was built for a cat, but with a bigger carton (or a small dog), you could easily translate this idea to a dog bed.
8. Hot dog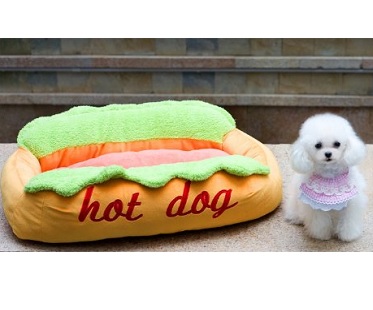 For small breeds that love cozy beds, you can't do better than this adorable hot dog bed.  I just can't get enough of how cute this looks!
9. Dog pagoda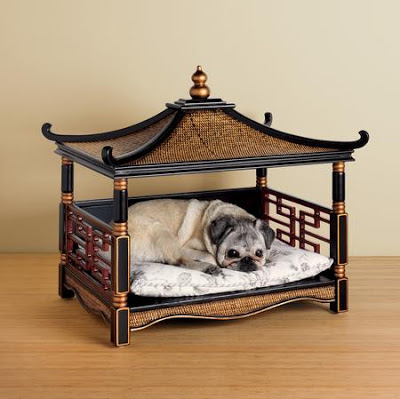 This dog bed blows me away as a piece of functional art.  The design is just gorgeous, and having actually lived in Japan, I can say it would fit right into the architecture there.  That little dog looks very cozy and at-home in there.  Amazing!
10. Hollywood luxury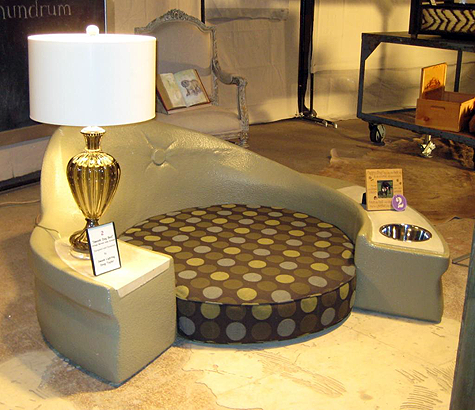 For the dog that has everything but needs even more, this luxury Hollywood-style dog bed is incredible!  It looks very comfortable, and I love the convenient built-in food/water tray on the arm!
11. Bunk bed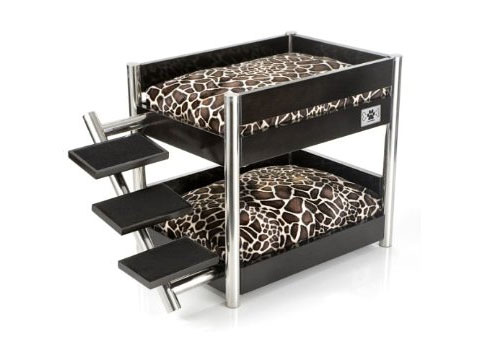 It looks extravagant, but it's actually quite a sensible idea.  If you live in a studio apartment or another small space, you may not have room for two dog beds.  What if you have two furry pals though?  This is the optimal solution!
12. Dog pod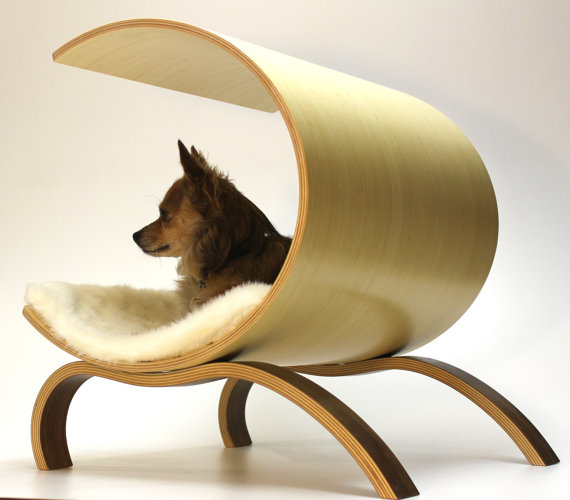 The Dog Pod 2.0 by Vurv is a popular seller on Etsy.  The modern design looks very sophisticated, and dogs enjoy the sense of shelter the shell provides.  The price tag is pretty lofty—you'll pay almost $900 for one of these beauties.
13. Cute critter dog bed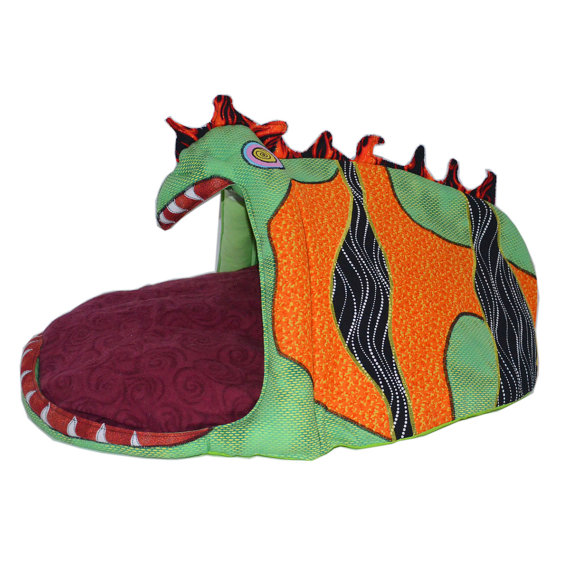 FattyB is another Etsy designer who makes some crazy dog beds!  Most of them are shaped like critters with their mouths wide open.  A very cute idea!
———————–
We hope you enjoyed this selection of crazy dog beds!  Many of these are beds you can actually purchase, or you can shop for similar items by the same designers.  And remember, you can always commission your own custom job or build your own dog bed from scratch if you like to do it yourself!  Seen any cool crazy dog beds you'd like to share with us?  Comment below!